Harrow School Angling Club Newsletter
February 2020
AGM
Our 2019/20 AGM & Presentation evening will be held on Thursday 26th March 2020 at the Post Office Club, 136 Greenford Road, Sudbury Hill, Harrow HA1 3QL (situated behind the Rising Sun pub). AGM will start at 8pm. As usual sandwiches and snacks will be laid on and there is plenty of car parking available at the club. Motions or proposals to be included on the AGM agenda and applications for committee membership must be submitted to the Secretary before 5th March. After this date you will be able to view the proposals and motions on the club website and notice boards.
Membership Renewal
This year you will again be able to renew your membership at the AGM. Committee members will be at the club from 7pm to accept your membership renewals. Please bring your membership renewal form to the AGM along with a passport photo and SAE. This year at the AGM we will be able to accept payment by credit or debit card and if you wish to pay in cash please bring full (preferably exact) payment. If you cannot attend the AGM but wish to pay by card or cash, you will also be able to do so at the Fisherman's Cabin where you will be given a receipt. However, you will not be able to leave your renewal form at the Cabin.
As you will see from your renewal form, we no longer accept renewal payment by cheque due to the amount of time and cost administering these payments. We encourage all members to pay by bank transfer or PayPal using the details provided on the renewal form. Alternatively, you can pay by credit or debit card using the link on our website: www.hsac.co.uk. Don't forget to quote your name and membership number
Renewals for next season's membership must be received before 31st March. Please provide your mobile phone number and/or email address as we intend to use these to contact members with important club announcements, eg: lake closure and work parties.
This year we have again frozen membership subscriptions, but we have increased the refund available to senior members for work party attendance. If you attend two work parties, you can claim back £25, only payable after completion of second work party.
Committee member and Website administrator needed
Danny McGahey is stepping down from the committee due to family commitments. Thank you to Danny for his work on the committee. We are also looking for someone to administer our website to ensure it is updated promptly and remains user friendly. If you are interested in either job, please let us know.
John Wood is stepping down as chairman but will stay on the committee as club bailiff. As all our members know John has made an immense contribution to the club, not only as chairman but also with all the work he puts in maintaining the lake. Without John's work the lake would be full of snags and have no fishable swims ! We should all be grateful to John for what he has done for the club and be pleased that he has agreed to continue as bailiff and to carry on looking after the lake for us.
Work Parties & Water Management
Work parties will be held on the following dates: Sundays 5th, 12th, 19th and 26th April. Times are 9am to 12.30pm. There is a lot of work to do to maintain the lake as an attractive and enjoyable place to fish, so please try to attend the work parties and don't forget senior members can receive a £25 refund on their subscription.
Stocking
During this winter we stocked 250lb of bream (averaging 1lb).
Don't forget the Harrow season ends on 14th March
Hope to see you at the AGM on 26th March

New Fish Stock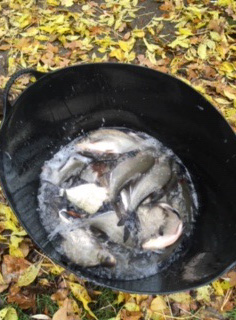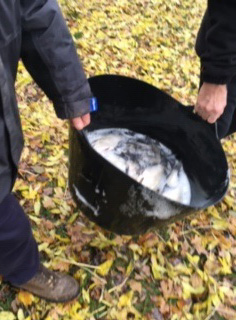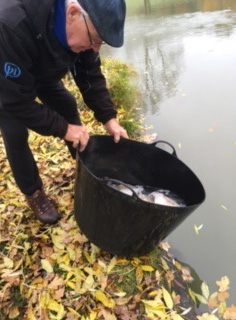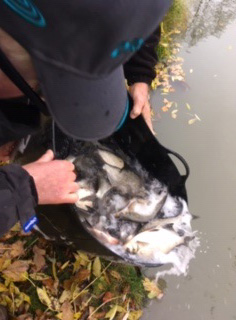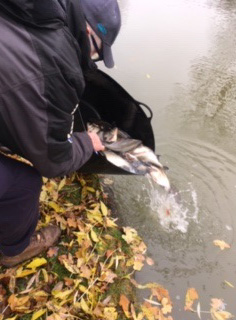 Saturday Family Day.

HSAC first family fishing match was a great success with 13 families fishing, the match was won with 21lb by young Morgan, Second was Carol 20Ib 5oz with young Willow third weighing in 17lb 8oz and catching the biggest fish of the day a 10lb common carp.

It was great to see lots of young anglers fishing with parents and grandparents. We also had the youngest angler of the day at 2 ½ years, catching a small roach.

Thanks to everybody who helped out and generously donated prizes.

We are looking forward to doing this again next year.